Foodwise's Farmers Market Winter Holiday Guide
November 8, 2023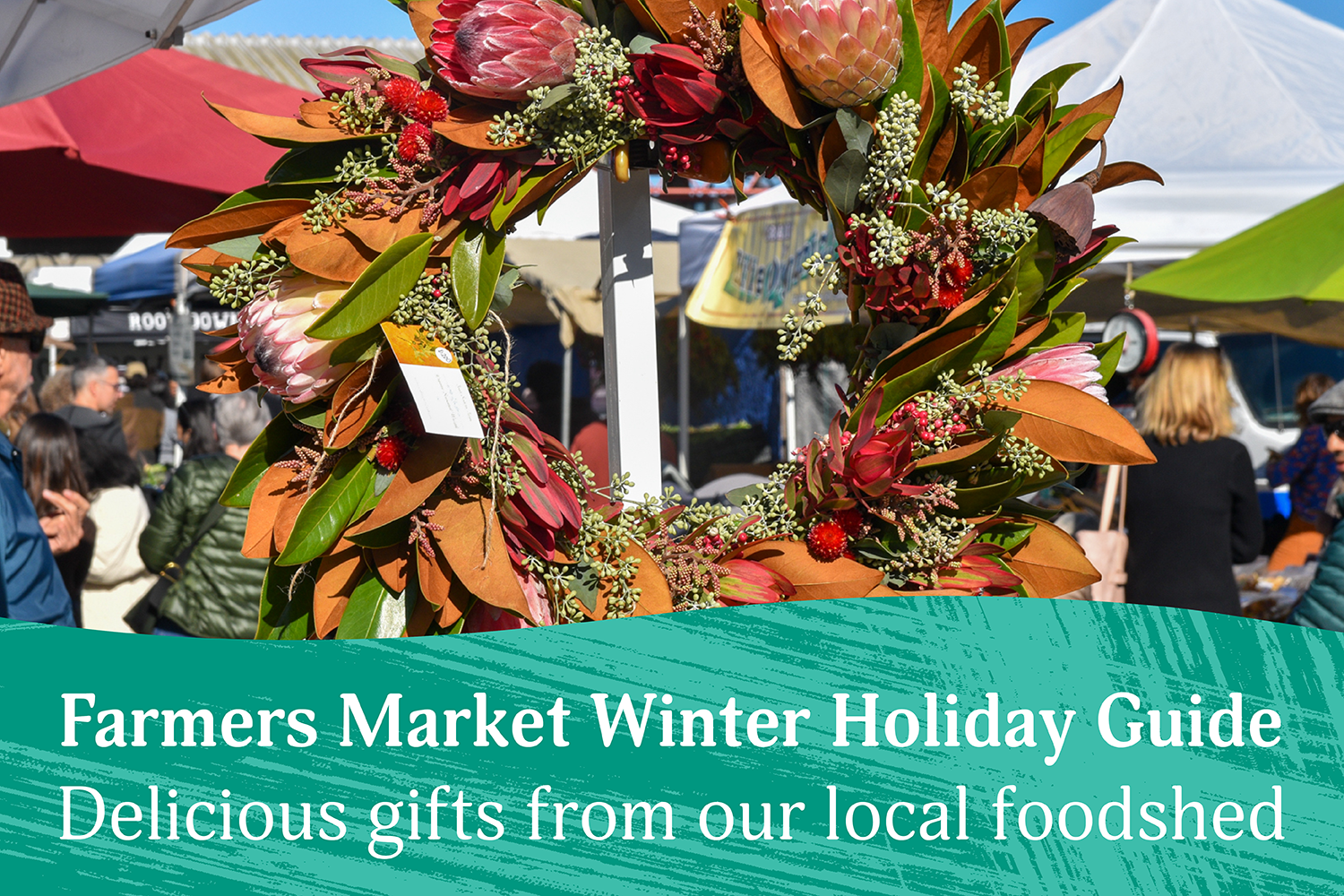 This holiday season, shop small and give the gift of good food while supporting local farmers and food crafters with our Farmers Market Winter Holiday Guide. At Foodwise's Ferry Plaza Farmers Market, you'll find the makings for wholesome winter feasts, along with unique gifts that nourish the body, the earth, and our local community.
We've gathered some ideas for delicious and distinctive stocking stuffers and host gifts, as well as fixings for creating a sustainably sourced goodie basket. These are gifts with real people and stories behind them. At the farmers market, you can meet the makers, learn about their crafts, and know that you're helping family farmers and small food businesses thrive.
As the days turn cold and rainy, farmers market vendors count on loyal customers like you to help sustain their businesses year-round. In this time of gratitude, we thank you for supporting Foodwise and our market community throughout the year. Happy holidays from Foodwise!
Ferry Plaza Farmers Market Winter Holiday Schedule
Note that the Ferry Plaza Farmers Market will be open on Saturdays December 23 and 30 from 8am to 1 pm. Note that the Ferry Plaza Farmers Market will be CLOSED on Tuesday, December 26 and Thursday, December 28. We'll be back our regular schedule on Tuesday, January 2, 2024, rain or shine.
OPEN: Saturday, December 9, 8am-2pm | Pop-Ups on the Plaza: Black Holiday Market
OPEN: Saturday, December 16, 8am-2pm
OPEN: Tuesday, December 19, 10am-2pm
OPEN: Thursday, December 21, 10am-2pm
OPEN: Saturday, December 23, 8am-2pm
CLOSED: Tuesday, December 26
CLOSED: Thursday, December 28
OPEN: Saturday, December 30, 8am-2pm
Special Event: Black Holiday Market
On December 9, celebrate local Black-owned businesses and get ready for the holiday season with a day of delicious food, crafts, community, and family fun at the Ferry Plaza Farmers Market. The south arcade of the Ferry Building will be transformed for a special holiday market featuring Bay Area food makers and designers, in partnership with the Fillmore-based Black-led marketplace In the Black. Learn more.
Farmers Market Winter Holiday Gift Guide
From small-batch hot sauce and artisan chocolate to handmade wreaths and lavender body care products, find these made-with-love winter holiday gifts from our local farmers and crafters at the Ferry Plaza Farmers Market.
Pick up something for everyone on your list: holiday hosts with the most, beverage aficionados, spice enthusiasts, and snack lovers. Can't decide? Get them a Farmers Market eGift Card.
Gifts for Holiday Hosts with the Most
Don't show up empty-handed! Express your gratitude for your holiday hosts with these artisanal treats.
Add holiday cheer and bring home the scent of eucalyptus, bay, lavender, and other California flora with gorgeous handcrafted holiday wreaths, grown and made by Cypress Flower Farm, Devoto Gardens, pictured above) Fifth Crow Farm, and Four Sisters Farm (pictured in the topmost image). Ferry Plaza, Saturdays.
A flavorful, quality olive oil goes a long way in culinary adventures, or simple bread-dipping appetizers. Sciabica's California Olive Oil gift packs feature four flavors of 100% extra virgin and unrefined olive oil, all cold-pressed on the family farm in Modesto. Bariani Olive Oil and Frog Hollow Farm also offer raw, authentic extra virgin olive oil bottles that are perfect for gifting. Ferry Plaza, Saturdays; online shop.
Hoshigaki, also known as Japanese dried persimmons, are a special seasonal treat. If you don't know where to start the weeks-long project of air-drying persimmons, Blossom Bluff Orchards has you covered. Each hoshigaki kit includes organic Hachiya persimmons from the Loewen family's farm in Parlier, a drying "rack" and a detailed instructions sheet. Ferry Plaza, Saturdays.
You can't go wrong with something sweet! Batter Bakery's baker Jen musty is driven by a love of sharing old-fashioned American treats, including cookies, brownies, and cakes, with a modern twist and an emphasis on premium ingredients and seasonal produce. This season, share Jen's holiday sugar cookies, or grab a box of shortbreads for the sweetest stocking stuffers. Ferry Plaza, Saturdays; online shop.
East Bay-based chocolate maker Bisou Chocolate coaxes intriguing flavors from high-quality cocoa beans to make flavorful bars, truffles, and more, while paying a high premium to cocoa farmers. Seek out their seasonal bonbons, chocolate bark, and drinking chocolate for your chocoholic loved ones. Ferry Plaza, Saturdays; online shop.
For the perfect gift of any carb-lover's dreams, Mill Valley Pasta Co. is at the Ferry Plaza Farmers Market with small-batch artisan pastas made with organic ingredients. Gift an elevated easy dinner with Chef Tony's Duck Egg Noodles and Limono Oro "Lemon Gold" to drizzle on top, or a specialty pasta gift box. Ferry Plaza, Saturdays; online shop.
What pairs well with pasta? Dirty Girl Produce is preserving their dry-farmed organic Early Girls to make blended tomatoes, clamato, and spicy tomato juice. Share their famous flavor-packed tomatoes all winter long. They also have strawberry preserves and cute tote bags and other merch, showing off their distinctive logo. Ferry Plaza, Saturdays; online shop.
B-Y-O-Babka for Hannukah with Wise Sons Jewish Delicatessen's cinnamon and chocolate babka loaves, made in SF. Their challah, bagel chips, and spice mixes (in brisket, shawarma, and everything blends) are go-tos for last-minute gifting. Ferry Plaza, Saturdays; online ordering.
A host wears a lot of hats during the holiday. Treat them to a little aromatherapy R&R. Famous for their lavender, Eatwell Farm has a suite of sachets, scrubs, salves, hydrosols, essential oils, and other aromatic products, as well as seasoning salts made from products grown on their organic farm in Dixon. Ferry Plaza, Saturdays; online shop.
Just in time for the holidays, Fibershed is hosting a series of holiday pop-ups at the Saturday Ferry Plaza Farmers Market on December 2, December 16, and December 23 to sell beautiful fiber goods and garments made by local producers within the Northern California Fibershed. Look for the Fibershed tent in the south driveway. Ferry Plaza, Saturdays.
Gifts for Beverage Aficionados
Know someone who always has a cup of coffee or tea on hand? Looking to get a gift for the home-mixologist? Check out these locally made coffees, teas, shrubs, and brews.
Let's talk coffee. Each season, Proyecto Diaz Coffee introduces a new seasonal offering in artful packaging (painted by the owner, Fernando Diaz). This December, the fall "Cosecha" blend is wrapping up and the winter "Felicidad" is incoming with notes of mulled wine, hazelnut, and baked peach. They also have specialty beverage kits, herbal Cascara tea, instant coffee, and tasteful tote bags and attire for coffee lovers. Tuesdays, Thursday, and Saturdays, Ferry Plaza.
For when its time to wind down, pick up Cozy Cardamom Chaga Spice Herbal Tea from Wise Goat Organics, a Santa Cruz‐based maker. Fermenter Mary Risavi's is also well known for her handcrafted ferments, including her seasonl Cranberry Relish, made with organic cranberries, ginger, wildflower honey, orange peel, and cinnamon. Ferry Plaza, Saturdays; online shop.
Pair coffee or tea with Marshall's Farm and City Bees honeys, which offer a little locally sourced sweetness in a different varietals. Holiday gift baskets are also available, and their honey straws make a fun stocking stuffer. Hanukkah and Christmas gift boxes are available from Marshall's Farm in mixed case varieties (3- or 8-ounce jars). Ferry Plaza, Saturdays; online shop.
Alexandre Family Farm has super‐creamy organic eggnog made from old‐fashioned A2/A2 milk from crossbred grazing cows on their regenerative dairy ranch in Crescent City. For a vegan alternative to eggnog, check out Beber Almondmilk's almond and cashew-based version, ideal for holiday entertaining, cookie dipping, and warming up by that open fire. Ferry Plaza, Saturdays.
To delight the beer lover in your life, Almanac Beer Co. is selling cans of their lush, festive, and juicy Holiday Love Hazy IPA (notes of mango, citrus, and cantaloupe), and a portion of proceeds go to the Alameda County Foodbank. Ferry Plaza, Saturdays; online shop.
To tide you over during the in-between strawberry season, enjoy value-added goods from McGinnis Ranch, an organic family farm in Watsonville. Give the sweet gift of Strawberry Jam, Strawberry Black Pepper Shrub, or Strawberry syrup, perfect to please any home mixologist. Ferry Plaza, Saturdays.
A much-anticipated holiday favorite, Tory Farms has farm-made pomegranate juice, a delicious gifts and refreshing accompaniment to holiday feasts. Tory and Rebecca Torosian grow pomegranates, grapes, citrus, and other tree fruit on their "Magic Ranch" in Dinuba. Ferry Plaza, Saturdays.
Gifts for Spice Enthusiasts
For the person in your life who likes their food bold and spicy, share the warmth from these local makers.
Turn up the heat with a jar of Kuali's Salsa Macha. New to the Ferry Plaza Farmers Market, Kuali is a Latino-owned artisanal salsa business bringing the bold, authentic and unapologetic flavors of México into their small batch salsas. Stop by Janeen and Rodrigo Cruz's stand to sample and choose from their Salsa Macha Clásica with pumpkin and sesame seeds, Salsa Macha de Cacahuate (peanuts), and Avocado Salsa Verde. Ferry Plaza, Saturdays; online shop.
New to the Ferry Plaza Farmers Market, Chef Sarah Germany builds on southern food traditions to create deeply flavorful medicinal foods, while preserving the bounty of California farms and gardens. Gift her fermented hot sauces that heal. Ferry Plaza, Saturdays.
Tierra Vegetables has plenty of distinctive gifts to bring flavor and spice, including their limited-supply Holiday Mole Negro with cranberry and dark chocolate, farmstead hot sauces, and heirloom popcorn and cornmeal, all sustainably grown and handmade in small-batches at Lee and Wayne James' farm in Santa Rosa. Ferry Plaza, Saturdays.
Support next-generation organic farmers and share a taste of summer by gifting canned goods from Oya Organics in Hollister. Farmers Marsha Habib and Modesto Sanchez Cruz have a fresh line of salsas, including Tomatillo Milpero, Organic Early Girl Tomato, and Amana Orange Tomato. Ferry Plaza, Saturdays; online shop.
Season, taste, and freshen with Allstar Organics' dried herbs, salts, sugars, and hydrosols, which beautifully preserve the flavors and scents from Janet Brown and Marty Jacobson's organic farm in Marin. Ferry Plaza, Saturdays; online shop.
Gifts for Snack Lovers
These locally sourced snacks are always in season.
For a satisfying snack straight from the farm, you can't go wrong with Little Farm's colorful dry-farmed potato chips. Also check out their canned dry-farmed Early Girl tomatoes and pepper jam, which feature farmer David Little's paintings on the label. Ferry Plaza, Saturdays.
If you're looking to gift the pleasantly unexpected, swing by Lonely Mountain Farm. First-generation farmers Kenny and Molly Baker take pride in their organic farming practices, and you can taste the flavorful impact of their efforts in jars of Classic Dill Pickles and Dilly Beans, and Bread and Butter Pickles. Top it off with a trucker-style hat embroidered with the family farm's logo. Ferry Plaza, Saturdays.
Gift the foundation for a show-stopping charcuterie platter with salt-cured snack meats from Canteen Meats, a husband-and-wife-run butcher shop in Petaluma. Ferry Plaza, Saturdays; online shop.
Pair with a selection of cheeses from Point Reyes Farmstead Cheese Company, whose Celebration Collection was named as one of Oprah's Favorite Things in 2023. All cheeses made by family-run Point Reyes Farmstead Cheese Company are certified gluten-free and all-natural. Ferry Plaza, Saturdays; online shop.
Winters Fruit Tree makes the holidays easy with gift trays and gift bags of their flavored almonds and pistachios, along with farmstead fruit jams and nut butters, straight up or in intriguing flavors like Cupcake Batter, Sweet Sriracha, or Jalapeno Popper. For more almond butter options, check out Massa Organics in the back plaza. Ferry Plaza, Saturdays and Thursdays; online shop.
Regenerative-certified, fifth-generation San Joaquin family farm Old Dog Ranch offers bags of raw walnuts, as well as flavors like Mexican Hot Chocolate, Whiskey Spice, and Rosemary, perfect for snacking. Grab-and-go gift bags with a sampler of their walnut butters and spiced walnuts are also available. Ferry Plaza, every other Saturday; online shop.
Can't decide? Give them a Farmers Market eGift Card!
Delight your friends and family by letting them choose their own delicious gift with a Foodwise Farmers Market eGift Card. Our gift certificates have no expiration date, are available in any amount, and are redeemable for market coins that can be used at any stand in the farmers market. They also make great corporate gifts! Learn more and purchase.
Topics: Farmers market, Holiday, Local, Seasonal